An NGO for sharing, exchanging and listening to urban innovations
Urbanistes du Monde (UdM) is a Non-Governmental Organisation under French law. It brings together urban planners from the North and the South who have decided to actively collaborate on various missions, internships, exchanges, surveys, training, information.
Urbanistes du Monde focuses on innovative practices of the city of tomorrow and is committed to kowledge sharing and know-how among urban planners from the five continents. For more than ten years, the NGO has established a library of knowledge on innovative urban practices. The international forums address a new theme at the heart of urban issues each year, to feed these reflections and compare the experiences of urban planners around the world.
---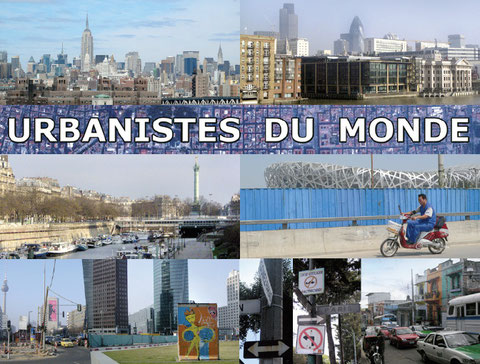 Planners on the ground
Thanks to the support of its international correspondents, Urbanistes du Monde carries out field missions every year. Senior missions have enabled experienced planners to offer their skills to the work done by their foreign colleagues. Every year, more than ten teams of junior planners leave for comparative studies around the world. The NGO also organises international workshops where urban planners from diverse backgrounds collaborate to answer a specific urban challenge.
Urbanistes du Monde's objectives
1. UdM is an international NGO that supports projects in solidarity with the populations of southern cities in the field of urban planning and development.
2. UdM exchanges and collaborates with urban planners and actors working for the development of the territories of the South, the NGO respects and supports their identity, their experiences and their actions, and shares the most innovative practices.
3. UdM runs a worldwide network of students, researchers and civil society actors in the fields of urban planning and regional planning in the South.
UdM's Principles
1. UdM develops a transversal and interdisciplinary approach to territorial issues in Southern countries. UdM considers local situations in their entirety and their complexity.
2. UdM is commited to implementing concerned solutions, in cooperation with the relevant actors, that will be fruitful and driven by the identity and political and cultural legitimacy of its actors.
3. UdM focuses its actions and its understanding of urban problems outside of a crisis context. UdM acts in the field of development and not in humanitarian action, our action is not limited to the post-disaster intervention.
4. UdM places its actions in the context of a globalised and interconnected world in which civil society collaborates and becomes increasingly intertwined. Thus, it encourages the development and initiative of local actors. This decentralised collaboration is complementary to intergovernmental cooperation and does not seek to replace or reject it.
5. UdM develops a research/action approach aiming at the meeting of Northern and Southern researchers and development actors (North-South / South-North / South-South collaboration) in order to learn from various projects on the urban field and to improve the knowledge of city planning and regional planning in southern cities.
6. UdM follows a logic of partnership and networking with associations, public and private actors involved in the field of spatial planning of cities in the South.
What we bring
1. A network based on skills for all different occupations of urban planning
2. Sharing and solidarity with the countries of the South

3. Strong mobilisation during missions
4. The desire to see as far ahead as possible
5. An educational focus for the transmission of North-South, South-North and South-South knowledge
6. A totally independent expertise